Hoopeston Swimming Pool & Splash Pad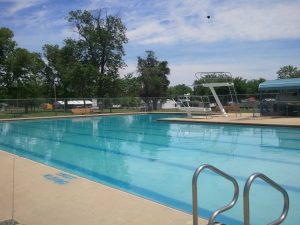 The Hoopeston Municipal Pool is located inside McFerren Park, just off Route 1.
The pool is open to the public daily , starting Memorial Day through the first Friday in August **SEE NOTE BELOW**. Weather and number of lifeguards available could alter this schedule.
*Pool Opening Day:  Saturday, July 7th at 12 PM
OPENING DAY:  FREE OF CHARGE
**Due to unforeseen circumstances causing the pool's opening to be delayed, the 2018 season will be extended through September. Schedule and pricing will be as follows:
+ Opening day through August 20th +
•Season passes: 1/2 off
•Day passes: $4
•Hours: Saturday-Sunday 12pm to 7pm, (6pm to 7pm adult swim)
+ August 20th through September 30th +
•Day passes (Weekdays): $2
•Day passes (Saturday and Sunday): $4
•Hours: 
Monday-Friday 4pm to 7pm (no dedicated adult swim)
Saturday & Sunday 12pm to 7pm, (6pm to 7pm adult swim)
Children 10/under must be accompanied by adult 18+
Daily swim begins at 12pm to 6pm.  Admission is $4 per person.
Adult Swim, from 6pm –7pm, will be $2.
Locker rental, swim lessons and concessions are available. If there is severe weather, lightning is sighted, thunder is heard, or if a tornado warning has been issued the pool will close.
2018 Season Family Passes:
(Prices below reflect the 50% discount being offered due to opening delays)
1 person – $45
2 person – $60
3 person – $75
4 person – $90
5 person – $105
Each additional person – $15
All lifeguards are certified in first aid, CPR-AED and lifeguarding. Check Hoopeston Swimming Pool on Facebook for announcements.