Hoopeston Swimming Pool & Splash Pad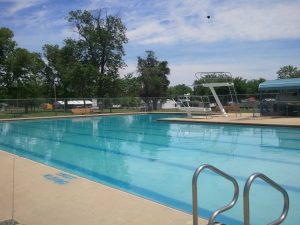 The Hoopeston municipal pool is located inside McFerren Park, just off Route 1.
The pool is open to the public daily, starting Memorial Day through the first Friday in August. Daily swim begins at 12:30pm to 6:15pm , with Adult Swim from 6:30pm –7:30pm.
The pool features a depth ranging from 3 feet to 13 feet,
low dive, and high dive. The pool also recently had a new addition of a splash pad, enjoyable for kids of all ages.
Weather and the number of lifeguards available may alter our normal schedule. The pool will close in the case of severe weather, lightning or thunder, or if a tornado warning has been issued .
Admission is $4 per person. Children under 10 must be accompanied by adult 18+. Locker rental, swim lessons and concessions are available.
All lifeguards are certified in first aid, CPR-AED and lifeguarding.
Season Passes
1 person $90
2 person $105
3 person $120
4 person $135
5 person $150
Each additional person $20