HOOPESTON SWIMMING POOL & SPLASH PAD
The McFerren Park Swimming Pool and Splash Pad will open for the 2022 Pool Season beginning Memorial Day, Monday, May 30th. 
MEMORIAL DAY ONLY:
Annual Discount on Season Passes & FREE Swim Day
10% – 25% Discounts on season passes from 9 AM – 5 PM
FREE Open Swim from 12 PM – 5 PM
Questions:  Please call 217-283-7215 or visit our Facebook Page at https://www.facebook.com/HoopestonPublicPool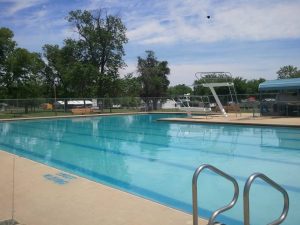 The Hoopeston municipal pool is located inside McFerren Park, just off Route 1. 
The pool features a depth ranging from 3 feet to 13 feet, low dive, and high dive.  A Splash Pad has been added, an addition enjoyable for kids of all ages.
Locker rental and swim lessons are available.
All lifeguards are certified in first aid, CPR-AED and lifeguarding.
Pool Schedule
7 AM – 8 AM, Monday – Friday:  Adult Swim
10 AM – 11 AM, Monday & Wednesday:  Swim Lessons
11 AM – NOON, Sunday – Friday:  Exercise Class
NOON – 5 PM, Sunday – Saturday:  OPEN SWIM
5 PM – 6 PM, Monday – Friday:  Adult Swim/Exercise Class
6 PM – 7 PM, Monday & Wednesday:  Swim Lessons
6 PM – 8 PM, Tuesday & Thursday:  Family Swim
7 PM – 9 PM, Wednesday:  Teen Swim
5 PM – 9 PM, Saturday & Sunday:  Available for scheduled parties
6 PM – 9 PM, Friday:  Available for scheduled parties
6 PM – 8 PM, Monday:  Available for scheduled parties
SEASON PASS PRICES:
1 Person – $100.00
$50.00 for each additional person
GENERAL ADMISSION:
$5.00 per person 
4 years and under FREE
PARTIES:
$100 per hour
Includes Lifeguards
To schedule a Pool Party, call 217-283-7215
SPLASH PAD:
OPEN beginning on Memorial Day with admission to Pool
AFTER MEMORIAL DAY: 

FREE TO PUBLIC   Monday-Friday 9 AM-NOON
ENTRY WITH POOL ADMISSION Sunday-Saturday  NOON-5 PM