Hoopeston Swimming Pool & Splash Pad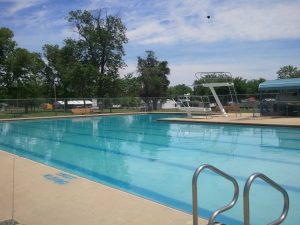 The Hoopeston Municipal Pool is located inside McFerren Park, just off Route 1.
The pool is open to the public Saturday, May 25th  through Memorial Day, Monday, May 27th.  Due to school still in session, the pool will close Tuesday, May 28th through Thursday, May 30th.  We will reopen to the public daily, Friday, May 31st through the first Friday in August . Weather and number of lifeguards available could alter this schedule.
Free Swim Day will be on Memorial Day ONLY.  Season passes will be sold at a 15% discount Memorial Day Weekend, Saturday, May 25th through Monday, May 27th ONLY.  They will be sold at regular price after Memorial Day.
Children 10/under must be accompanied by adult 18+
Daily swim begins at 12pm to 6pm.  
Admission is $4 per person.  Age 4 and under free.
Adult Swim, from 6pm –7pm, will be $2.
Locker rental, swim lessons and concessions are available. If there is severe weather, lightning is sighted, thunder is heard, or if a tornado warning has been issued the pool will close.
2019 Season Family Passes:
1 person – $90
2 person – $120
3 person – $150
4 person – $180
5 person – $210
Each additional person – $30
All lifeguards are certified in first aid, CPR-AED and lifeguarding. Check Hoopeston Swimming Pool on Facebook for announcements.