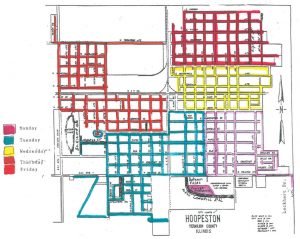 City of Hoopeston garbage collection is provided by Republic Services. They offer residential, commercial, construction and industrial waste removal and landfill services. Questions regarding garbage or recycling, contact Republic Services at 217-554-7016 or 1-800-797-9097.
Garbage pick-up schedule for the CITY OF HOOPESTON is divided into different sections of town on designated days of the week with a monthly fee of $19. Holidays observed by Republic are as follows: New Year's Day, Memorial Day, 4th of July, Labor Day, Thanksgiving Day and Christmas Day. When one of these holidays falls during a week day, pick-up will be one day behind as originally scheduled.
Free Curb side recycling is offered for those who want to participate. Pick-up for recycling is every other Friday.
2023 Recycling Schedule